Nigel Klaasen, a junior production manager on the farm Fruitways Glen Elgin in Elgin, was announced as the 2022 Western Cape Prestige Agri-Awards winner at the annual gala dinner held on Saturday, 5 November 2022, at the Grandwest Complex in Goodwood.
Klaasen won prizes to the value of approximately R100 000, including an overseas study tour.
Klaasen said: "I am grateful to my employer, Fruitways, for allowing me to do what I do well. The positivity of my fellow competitors and agri-workers inspires me. Not enough is said about the role that agri-workers play in ensuring food security. Through our daily toil, we produce enough food to ensure that our fellow South Africans have access to food. Thank you, Western Cape Department of Agriculture, for highlighting our contribution and appreciating agri-workers."
Western Cape Minister of Agriculture, Dr Ivan Meyer, highlights that the Prestige Agri-Awards Competition recognises the province's agricultural workforce's hard work, commitment, and dedication.
Meyer said: "The Prestige Agri-Awards Competition not only showcases the excellent work done in the agricultural sector in this province. In addition, it acknowledges, celebrates and inspires pride in its workforce and encourages them to learn new skills.  Agri-workers play a significant role in the Western Cape economy. Their energy, knowledge, and expertise contribute to food and nutrition security, bring foreign exchange into the country from exports, and provide for their families. So tonight, we celebrate excellence, ambition, confidence, drive and the competitive spirit of our agri-workers."
This year, nine hundred and ninety-four agri-workers representing 15 regions competed in 11 categories.
Regional winners are Emile Asplein (Bergrivier); Deon Mazetta (Breede Valley); Elloise Volmink (Central Karoo); Nigel Klaasen (Elgin); John Williams  (Franschhoek); Sithembiso Shange (Garden Route); Patrick Mosedie (Hessequa-Kannaland); Christiaan Petersen (Hexvallei); Jeanne-Meine (Langeberg); Shirlene Boks(Olifantsrivier); Zolani  Bethuel Majali (Overberg)  Gerrit Boois (Piket-Bo- Berg); Nongcebo Langa (Stellenbosch); Aphendule Dyomfana (Swartland) and Shiree Paulse (Witzenberg).
Christiaan Prins of the Breede Valley region was acknowledged as the agri-worker who displayed the best potential in this year's competition.
Two special Ministerial Awards went to:
Slanghoek & Botha Wine Estate Healthcare Project for the outstanding partnership they have with the Western Cape Departments of Agriculture and Health to extend health services to agri-workers and
Martha Klein of Central Karoo was acknowledged for her community work amongst agri-workers despite battling her health challenges.
Shoprite Freshmark has been the main sponsor of the Agri-Awards competition since 2012.
Pieter van Zyl, General Manager of  Procurement at Shoprite Freshmark, said:
" Agriculture plays a critical role in ensuring food security. The Western Cape is a strategic supplier to Shoprite. Thirty-five per cent of all purchases come from the Western Cape and are distributed through the Shoprite network. This would not be possible without the 180 Western Cape producers and 50 000 agri-workers who supply Shoprite Freshmark with fresh produce. They are not only the 1st link but also the anchor of the whole value chain. Their love and passion for agriculture have struck me most in the last couple of years. Shoprite is proud to be associated with this great competition."
Klaasen will now also join past winners who serve on the  Western Cape Prestige Agri Worker Forum.
The forum, which meets quarterly with the Western Cape Minister of Agriculture, provides a platform for sharing information regarding good farming practices, identifying opportunities, and improving productivity.
Meyer said: "It is also an opportunity to exchange ideas on matters pertinent to the daily experiences of agri-workers. Our agri-workers are a key resource for this sector. They are the driving force behind our economic recovery. I salute the hardworking men and women that are part of the backbone of our agricultural economy."
"The Western Cape values the dignity and well-being of our agri-workers. Climate change is real. So we also have to talk about our agri-workers who work in ever-changing climatic conditions," concluded Meyer.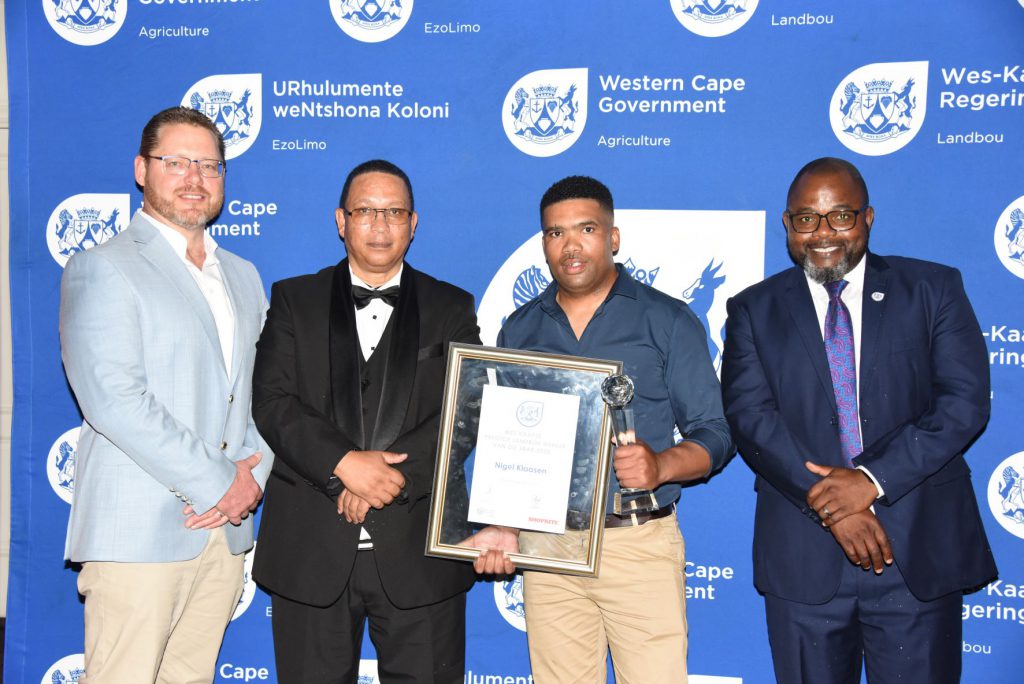 ---
Media Enquiries
Daniel Johnson
Spokesperson for Minister Ivan Meyer
Tel: 079 990 4231(m)