Address: PO Box 271, Moorreesburg, 7310
Langgewens Research Farm, N7, Moorreesburg
Tel: 022 433 8930
Email: Samie.Laubscher@westerncape.gov.za
GPS co-ordinates: 33.276821552 S 18.703171288 E
Located just two kilometres east of the N7, Langgewens Research Farm is located between Malmesbury and Moorreesburg in the Swartland. The farm covers an area of about 500 hectares with an average annual rainfall of about 395mm. Established in 1926, the farm was established with infrastructure and staff to support to researchers. Research institutions currently involved in projects on the farm include the Western Cape Department of Agriculture, Stellenbosch University, ARC Small Grain Institute, Swartland Cereals Development Group and other private institutions.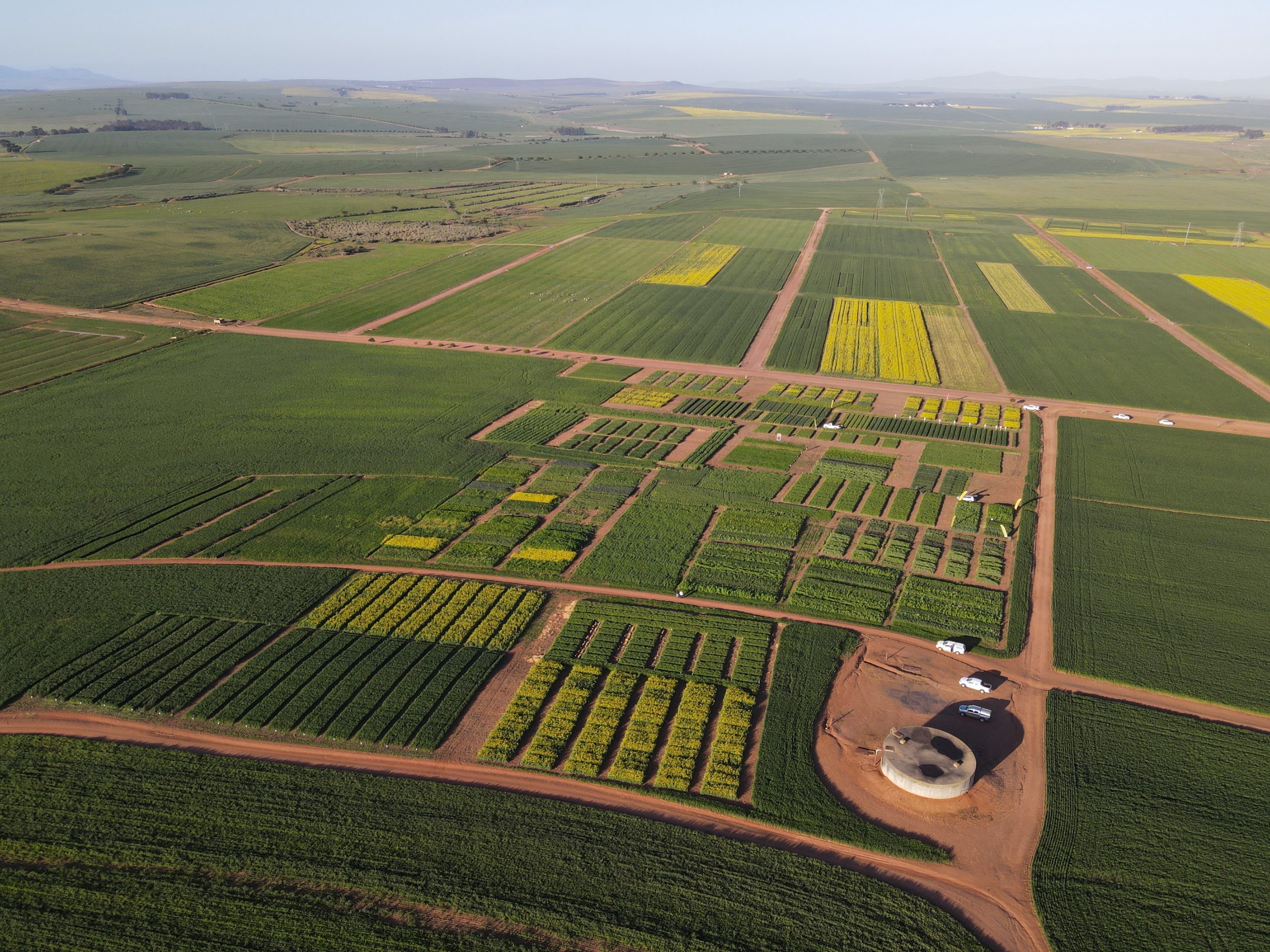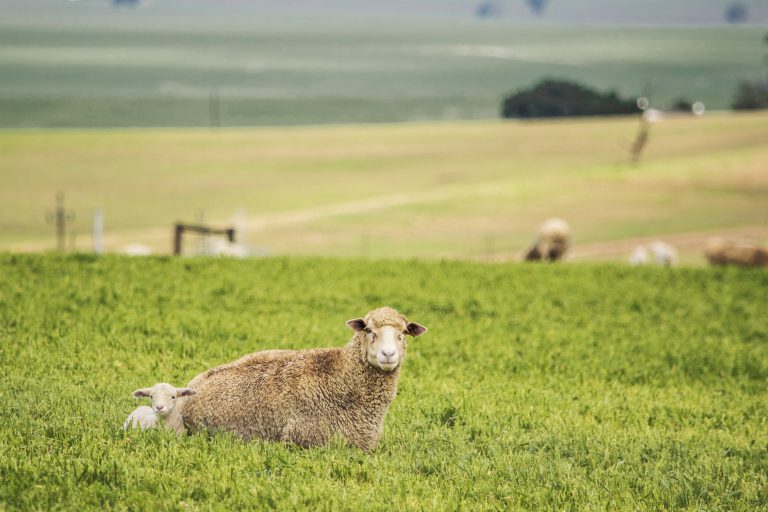 Langgewens Research Farm is the site of two long term conservation agriculture projects: the crop rotation trials and the soil tillage trials. Sheep resource flocks maintained at the farm includes Merino, SA Meat Merino, Dohne Merino, Dormer, Blackhead Dorper, White Dorper and Meatmaster breeds.
Several research projects are currently under investigation at the farm by researchers from the Directorates Plant and Animal Sciences. Projects run by the Directorate: Plant Sciences focus on sustainable production through conservation agriculture, crop rotation and cultivar evaluations. 
Long term crop rotation trials
Dr. Johann Strauss is developing sustainable production systems research with a low input costs conservation agriculture trial. The studies will focus on improving soil health with the goal of increasing grain production in the Swartland. The results of the current long-term crop rotation trial (over 20 years) showed that no tillage and crop rotation can ensure the sustainability of grain production. The current trial will extend for at least another ten years to study climate change, at the same time creating opportunities for training and research projects. 
Long term soil tillage trials
Dr Johan Labuschagne is studying the long-term effect of soil disturbance and crop rotation with maximum retention of crop residues on soil quality and grain yield. Rotation includes wheat monoculture, corn/medic and wheat/lupine/wheat/canola systems. The trial began in 2007 and two M.Sc. Agric. studies have been completed and a PhD study is currently underway, and involves an evaluation of the effect of the soil tillage combinations on microbial and nematode activity and diversity.
The other long-term minimal tillage trial started in 1976. Combinations of no-till, minimal tillage and conventional tillage are investigated. The current crop rotation is wheat/canola/ corn/cover crop. The effect of strategic soil tillage on soil health and crop response is being conducted by two M.Sc. Agric. students in collaboration with Stellenbosch University at Langgewens Research Farm. 
Cultivar evaluations
Piet Lombard runs the canola cultivar evaluation trials. These evaluation trials are planted annually and additional data on growth and development stages is collected. The canola trials at Langgewens Research Farm play an important role in the national canola cultivar evaluations. This data is used to advise companies and farmers regarding cultivar selection. Trials are conducted to demonstrate the agronomic practices that can increase yield or to reduce inputs. Over the past decade, cultivar trials focusing on feed grain and legume pastures have also been planted. 
SKOG
The Swartland Kleingraan Ontwikkelingsgroep (SKOG) was founded in 1991 with the aim of promoting a co-ordinated research programme and technology transfer. Thirty-eight hectares of land on Langgewens is allocated to SKOG. The principle stakeholders of SKOG are the Western Cape Department of Agriculture, Cape Agri, Overberg Agri and the Protein Research Foundation (PRF).  SKOG's manager Mr Gert Conradie is the link between the stakeholders and staff and is responsible for organising and coordinating research and training at SKOG. The Western Cape Department of Agriculture provides infrastructure, labour, equipment and funds the post of SKOG manager. Two SKOG Farmer Days are held annually, and serves to facilitate research development and technology transfer.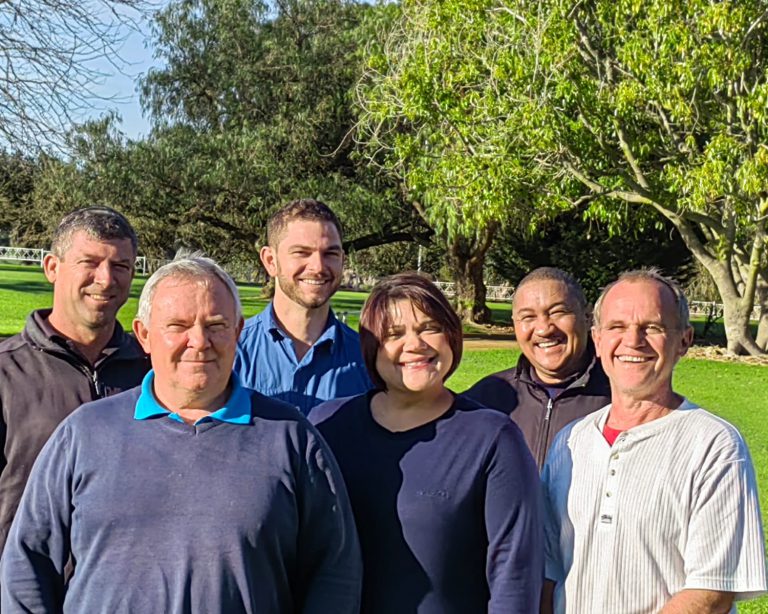 Back row left to right: Heinrich van Zyl, Rens Smit and Izak Owies. Front row left to right: Samie Laubscher, Rentie Straus and Gert Conradie