On Saturday, 26 February 2022, Western Cape Minister of Agriculture Dr Ivan Meyer joined academics, officials, parents and guardians as they gathered to witness the graduation of the Elsenburg Agricultural Training Institute's class of 2021.
One hundred and ninety-seven students graduated on the day with qualifications ranging from National and Higher Certificate and Diploma in Agriculture and the degree, Baccalaureus in Agriculture.
Lara Barnard, Richard Da Costa, Salomon De Jager, Karli du Toit, Barend Engelbrecht and Sara Lee graduated cum laude.
Dux Awards went to Engela Uithaler, Britteney Havenga and Karli du Toit.
Nominqweno Nonjola received the best student award in viticulture NQF level 4, Irvin Modukanele the best student award in animal production NQF 4 and Engela Uithaler the best student award for pomology NQF 4. In addition,  Cameron Moodie was awarded the National Wool Growers Association award in Wool Production.
Speaking at the graduation ceremony, Minister Meyer said: "Today, one hundred and ninety-seven students will become members of that illustrious group of students who call themselves graduates of the Elsenburg Agricultural Training Institute."
Meyer also had a particular word for parents and guardians.
Urging graduates to applaud their parents and guardians, Meyer said: "We must express our gratitude to parents for their sacrifice, encouragement, inspiration, motivation and most of all for never losing confidence in their children's ability to succeed. Today's graduation confirms that it was all worth it."
In line with Meyer's key priorities, namely, promoting structured training, education and research, Meyer urged graduates to champion establishing more agricultural schools in the Western Cape.
Meyer: "Join me on my mission to create more training opportunities, especially for the youth, in the agricultural sector."
"The Western Cape agricultural sector is leading the agri exports in South Africa, and the investment in our agriculture education supports the Western Cape's economic recovery. Our graduates will now enter the world of work, and we are indeed very proud of our youth in agriculture."
"Champion the cause of the hungry and promote food security," Meyer concluded.
---
Photo: Special Awards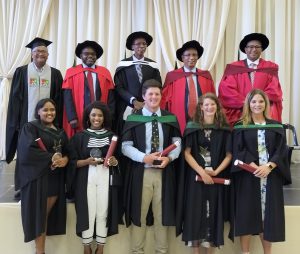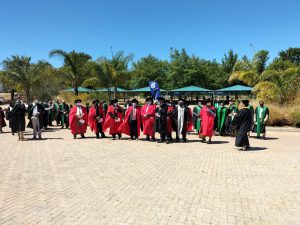 ---
Media Enquiries
Daniel Johnson
Spokesperson for Minister Ivan Meyer
Tel: 079 990 4231