"Today, you become members of that illustrious group of students who can call themselves alumni of the Elsenburg Agricultural Training Institute", said the Western Cape Minister of Agriculture, Dr Ivan Meyer,  during the recent graduation ceremony held on 3 December 2022 in Stellenbosch.
One hundred and seventy-seven students graduated with qualifications ranging from Certificates and Diplomas to the Baccalaureus in Agriculture degree.
Mathys Bester, Micaela Dale and Anja Kotze were awarded the degree Baccalaureus in Agriculture cum laude.
Dux Awards went to:
Learnership Programme:  Miché Maree,
Diploma Prgramme: Andrea Caetano, and
Agric Prgramme: Anja Kotze.
Cum Laude student Anja Kotze from the West Coast also received the National Wool Growers Association award in Wool Production and the Western Cape Branch of the South African Veterinary Association Awards for Best Student in Animal Health (Small Stock) and Best Student in Animal Health (Large Stock).
Special awards in the Learnership Programme went to:
Zikhona Tsholoba: Animal Production
Miché Maree: Plant Production – Viticulture and
Bonga Ngceni: Plant Production – Pomolgy
Congratulating students, Minister Meyer said: "I congratulate you on behalf of the Premier of the Western Cape, Alan Winde, the Western Cape Government,  the Council of the Elsenburg Agricultural Training Institute led by Professor Danie Brink, and the people of the Western Cape."
Meyer urged graduates to applaud their parents and guardians: "We must express our gratitude to parents for their sacrifice, encouragement, inspiration, motivation and most of all for never losing confidence in their children's ability to succeed. Today's graduation confirms that it was all worth it."
The National Diploma was awarded posthumously to Willem Verster, who died tragically in an accident earlier this year. His father, Mr Willa Verster, accepted the award amid a standing ovation.
In line with one of Meyer's key priorities, namely, the promotion of structured training, education and research, Meyer urged graduates to champion his plan to establish more agricultural schools in the Western Cape.
Meyer: " I am working to create more training opportunities in the agricultural sector, especially for the youth."
"Our skills development is supported by sustained economic growth in the sector. Creating opportunities in agriculture for the youth is a long-term strategy to support our growing agri sector in the Western Cape", concluded Meyer.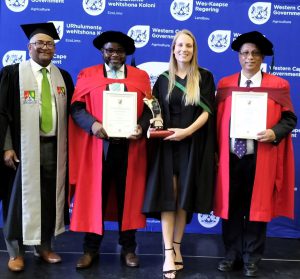 ---
Media Enquiries
Daniel Johnson
Spokesperson for Minister Ivan Meyer
Tel: 079 990 4231
Email: Daniel.Johnson@westerncape.gov.za